The 2018 Smart City Summit & Expo (SCSE) along with three sub-expos have taken place at Taipei Nangang Exhibition Center on March 27th with 210 exhibitors from around the world this year, exhibiting a diversity of innovative applications and solutions in building a smart city. Taiwan is known for the friendly and healthy business environment, ranked as 11th by World Bank. With 40+ years in ICT manufacturing and top level embedded systems, companies form a vigorous ecosystem in Taiwan. With an openness toward innovation, 17 out of 22 Taiwan cities have made it to the top in Intelligent Community Forum (ICF).
Ethan Tu, Taiwan AILabs Founder, gave a talk of "AI in Smart Society for City Governance" and laid out AI position in Taiwan that smart cities is for "humanity with privacy and integrity" besides "safety and convenience". He said "AI in Taiwan is for humanity. Privacy and integrity will also be protected.". The maturity of crowd participation, transparency and open data mindset are the key assets to drive Taiwan on smart cities to deliver humanity with privacy and integrity. Taiwan AILabs took social participating and AI collaborated editing open-source news site of http://news.ptt.cc as an example. The city governments are now consuming the news to detect the social events happening in Taiwan in real-time for the AI news' robustness and reliability in scale. AILabs collaborated with Tainan city on AI drone project to simulate "Beyond Beauty" director Chi Po-lin who dies in helicopter crash. AILabs also established "Taipei Traffic Density Network (TTDN)" supporting real-time traffic detection and prediction with citizen's privacy secured, no people nor car can be identified without necessity for Taipei city.
The Global Solutions (GS) Taipei Workshop 2018 with "Shaping the Future of an Inclusive Digital Society" took place at the Ambassador Hotel on March 28, 2018 in Taipei. It is co-organized by Chung-Hua Institute for Economic Research (CIER) and the Kiel Institute for the World Economy. The "Using Big Data to Support Economic and Societal Development" panel section was hosted by Dennis Görlich Head, Global Challenges Center, Kiel Institute for the World Economy. Chien-Chih Liu, Founder of the Asia IoT Alliance (AIOTA), Thomas Losse-Müller, Senior Fellow at the Hertie School of Governance, Reuben Ng, Assistant Professor, and Lee Kuan Yew School of Public Policy, National University of Singapore all participated in the discussion. Big data has been identified as oil for AI and economic growth. He shared the vision in his panel, "We don't have to sacrifice for safety or convenience. On the other hand, Facebook movement is a good example that the tech giants who overlook privacy and integrity will be dumped."
Ethan explained 3 key principles from Taiwan societies on big data collection. The following principles exist and are contributed by the mature open internet societies and movements in Taiwan. AILabs will promote them as fundamental guidances for data collection on medical records, government records, open communities and so on.
1. Data produced by users belongs to users. The policy makers shall ensure no solo authority such as social media platform is too dominant to user and force users on giving up data ownership.
2. Data collected by public agent belongs to public. The policy makers shall ensure the data collected by public agency shall provide the roadmap on opening data for general public on researches. g0v.tw for example is a NPO for the open data movement.
3. "Net Neutrality" is not only ISP but also for social media and content hosting service. Ptt.cc for example, persists in equality of voice without Ads. Over the time the equality of voice has overcome the fake news by standing-out evidences.
"Humanity is the direction for AILabs. Privacy and Integrity are what we insist." said Ethan.

Smart City workshop with Amsterdam Innovation Exchange Lab from Netherlands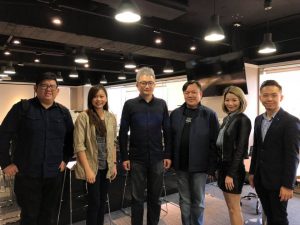 SITEC from Malaysia visiting AILabs.tw
https://ailabs.tw/wp-content/uploads/2018/04/smart_city_expo.jpg
640
960
AILabs.tw
https://www.ailabs.tw/wp-content/uploads/2018/12/AI-Labs-Logo-1-300x92.png
AILabs.tw
2018-04-01 01:45:11
2018-04-03 18:35:05
Humanity with Privacy and Integrity is Taiwan AI Mindset